We've emerged from the pandemic and shifted into an entirely new way of working and living. The Roaming 20s - as I like to call it - has granted many of us the freedom to work how, when, and wherever we want. That newfound freedom has led many Americans (and people all around the world, I'm guessing) to pack up and move.
More and more people are leaving the big cities behind, but I wouldn't call it an urban exodus, however, because many of them are just heading South. From New York to Charleston or Boston to Miami, Americans flocked South last year in big numbers – and, oddly enough, many fled to Vermont. Reasons for moving ranged from a new job or job transfer, closer proximity to family, less densely populated areas, more reasonable housing prices, or, heck, just for the sunny weather that many desire. The Street lists 30 of America's more 'unassuming' cities that are seeing a big influx of new residents as of late. Charleston, South Carolina, we all know or have at least heard of but Greenville not so much. 
One thing is for certain: real estate is booming right now. With historically low interest rates and the freedom to go wherever we want, people are certainly on the move. This influx of interest has brokers and agents in the spotlight.
A New Challenge for Buyers & Sellers: Virtual Tours
Although the demand for homes is at a high right now, the experience of shopping and home-buying has changed drastically compared to 20 years ago. What used to be a full day spent being driven around town and taken out to lunch by your realtor has been replaced with sporadic virtual showings and contactless tours. Handshakes and homeowner welcomes quickly gave way to blue shoe covers neatly placed in a basket by the door… and open-houses are now a one-day-only event where it's a mad dash to be the highest bidder. And if you're one of the many Americans looking to buy or rent and move to a new state, the experience is even harder. 
Speaking from very recent experience purchasing a home out-of-state, Zoom and Google Duo tours from an agent's cellphone to the one in the palm of my hand are exasperating. WiFi typically doesn't exist in a staged home so the buyer ends up in a situation where they're saying, "Oh no, your video froze… wait a sec… can you back up a little… I didn't see the bathroom… I can't tell how large the yard is." Yes, I've been there. No fun indeed. 
So, in order to be successful and make the home-buying process go more smoothly, agents are finding better ways to showcase their listings. One way to showcase homes in lieu of the traditional all-day touring experience is to create digital flipbooks, or brochures, of available properties. Dynamic flipbooks are perfect for supplementing even the most straightforward buying-and-selling transactions, as brokers and agents have challenges that go beyond sheer distance.
Showcasing Real Estate Listings with Digital Flipbooks
Nearly every buyer or renter begins their house search online, so it's important to meet them where they are at every step of the journey. A great way to strengthen your digital marketing efforts is to put listings front and center in a dynamic, immersive format where buyers feel like they are touring homes at their own pace. With the ability to embed videos right next to photos, agents can skip trying to connect over Facetime and Zoom; buyers are able to sift through property listings much faster and won't be misled by wide-angle lens photos. Digital flipbooks provide a host of other benefits and use cases as well:
Enable large-scale hosting and sharing

Attract the fast-growing pool of Millennial buyers and sellers

Increase sellers' trust that you'll get their homes sold fast

Deliver valuable brochures to buyers to supplement contactless touring

Feature information about agents in addition to the properties

Eliminate printing costs and the hassle of delivering printed handouts to homes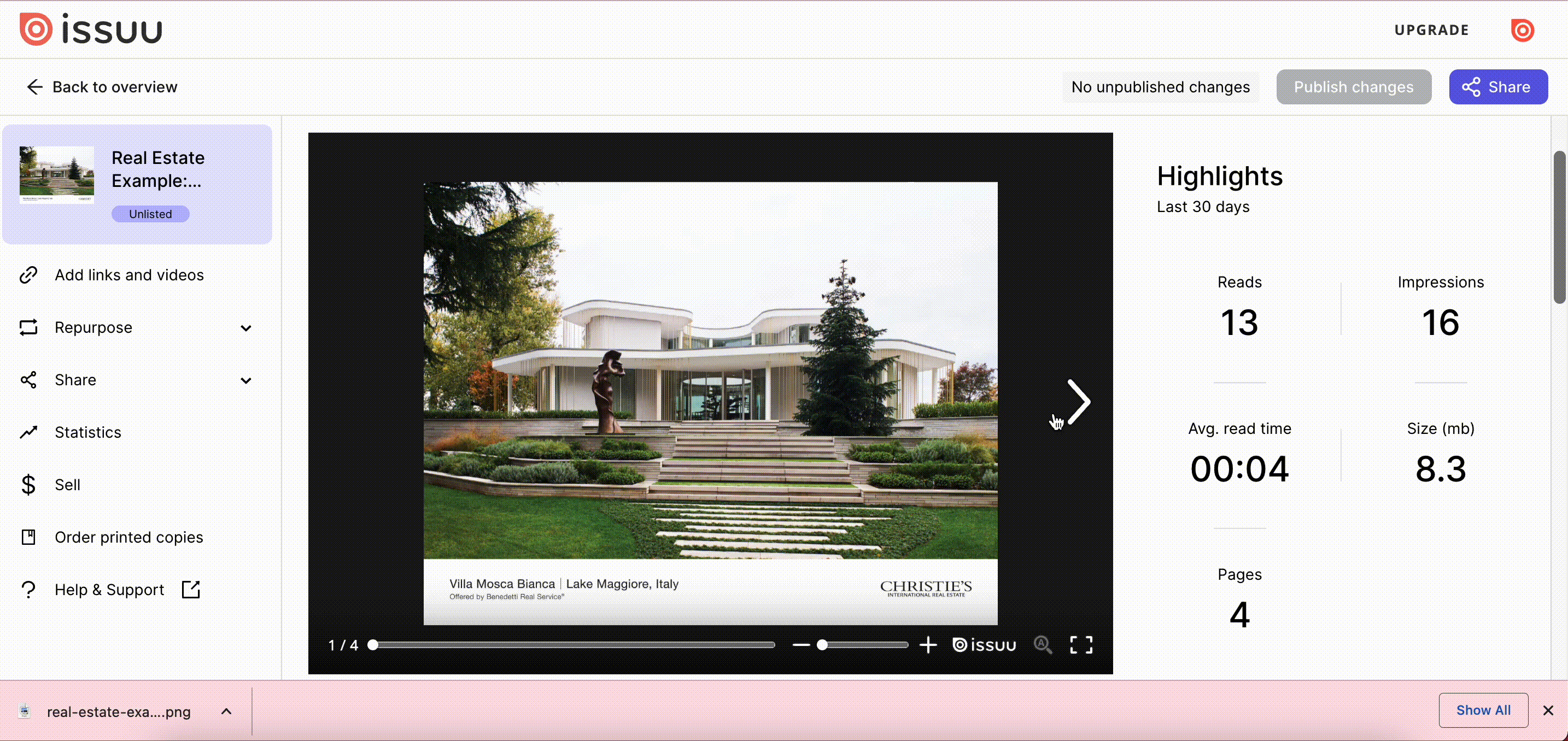 Giving Agents The Marketing Boost They Need
Real estate is considered to be quite a saturated industry, where the average individual typically knows several agents who are friends, friends of friends, or someone they've worked with prior. Agents have a tough job when it comes to staying relevant in an industry where competition is fierce. It's more than just connecting buyers and sellers. Agents bear the responsibility of driving a marketing strategy and building up their own personal brand, as well as their professional relationships. 
So they look to brokers to support them less on "how to find clients" and more on "how to run a successful business". Real estate brokers require easy-to-access-and-use marketing tools, templates, and collateral to enable their agents to market properties and projects efficiently. This marketing playbook from At Home Chicago is a perfect example of how broker-created flipbooks can empower agents from the top down.
Issuu makes publishing, storing, and sharing large files easy, all while solving the issue of digital asset storage. Starter templates, embeddable video, and auto-detected linking options make it easy for real estate firms and agents to market their listings online so they have more time to go out and actually sell. And in a fragmented market where the top 50 real estate companies account for nearly 40% of the market share, having these digital publishing and marketing resources is crucial for smaller companies to succeed.
Agents and Brokers Who Make You Look Twice
Showcasing property listings on digital platforms also shows buyers and sellers that, as an agent, you understand the power of social media and how to drum up interest. Take it from my friend, former neighbor, and top realtor Summer Hudson, in Indianapolis, who is better known on TikTok and Instagram as Find a Lot to Love. Summer has mastered the art of catching people's attention with social media. She showcases homes in clever short-format videos, linking people to the actual digital listing in her stories - all while making the buying and selling process easy to understand for first-timers.
With a motto of "create once, share everywhere", Issuu makes social media marketing effortless. Visual stories are automatically generated from every digital brochure and users are able to customize which snippets they want to be shown.
There are a plethora of great examples of incorporating digital brochures into your overall real estate marketing strategy, too. Take a look at these inspiring examples on Issuu:
A Digital Solution for All Your Real Estate Marketing Needs
Whether you need a quick fix for digital asset management or are looking to stand out from the crowd, engage buyers and sellers, and see your sales skyrocket, digital content publishing is the way to go. Trade the virtual tours and endless browsing online for a page-turning experience that will have sellers knocking and buyers writing offers in no time.